Around the World and Giving Back
Journalism alumna and travel writer supports Montana Journalism Abroad Program
February 24, 2021
University of Montana alumna Judith Blakely Morgan began writing an L.A. Times travel column, "Her World," in 1975. What she thought would be a four-week assignment turned into 30 years and an expansive travel writing career that included visiting all seven continents and writing for renowned publications such as National Geographic and Reader's Digest.
"Travel changes lives and creates not only better writers, but also better humans with more understanding, tolerance and curiosity," Morgan said.
Today, Morgan is ensuring that — once pandemic conditions allow — UM students can enjoy the same kinds of transformative travel experiences she did throughout her career. Her recent gifts allow the Montana Journalism Abroad Endowment to subsidize programming costs for the School of Journalism's annual study abroad trip, making it affordable for students to take advantage of this life-changing opportunity.
Growing up in Tulsa, Okla., both of Morgan's parents worked as journalists, but it wasn't until she attended UM that she realized her own passion for writing. She didn't declare a major until her junior year, when her mother encouraged her to enroll in a reporting class.
"It never occurred to me that I would study journalism because I had lived it," she said.
That changed, however, once she was introduced to the campus newspaper. "The moment I walked into the Kaimin office, I was hooked," she said.
After graduating from UM in 1960, Morgan received a fellowship from the Inter American Press Association and spent a year studying and writing from Buenos Aires. She traveled extensively in Argentina and covered President Kennedy's Alliance for Progress conference in Punta del Estate, Uruguay, where she interviewed Ernesto "Che" Guevara. In 1963, Morgan became a general assignment reporter for the San Diego Union, covering events such as the opening of the University of California, San Diego campus and the Salk Institute for Biological Studies.
When the travel editor of the L.A. Times presented the opportunity to sustain a weekly column, "Her World," Morgan jumped at the chance to combine her love of writing with her desire to travel.
"I still feel that traveling is the only way to get perspective on this crazy world," she said. "To go with an open mind and vast curiosity was just what I wanted to do."
As a freelancer, Morgan wrote for publications such as National Geographic, Travel & Leisure, Saturday Review, Harper's Bazaar, Sports Illustrated and Time magazine of Australia. She enjoyed a variety of assignments ranging from the best shoes to wear while traveling, to favorite benches around Switzerland, to national political conventions. With her late husband, media icon Neil Morgan, she co-authored Dr. Seuss & Mr. Geisel: A Biography, which was selected by the New York Times as a Notable Book of 1995.
Morgan, who now lives in La Jolla, Calif., cherishes the relationships she and her late husband developed with such journalistic luminaries as Andy Rooney, Walter Cronkite, James Michener, Art Buchwald and Katharine Graham.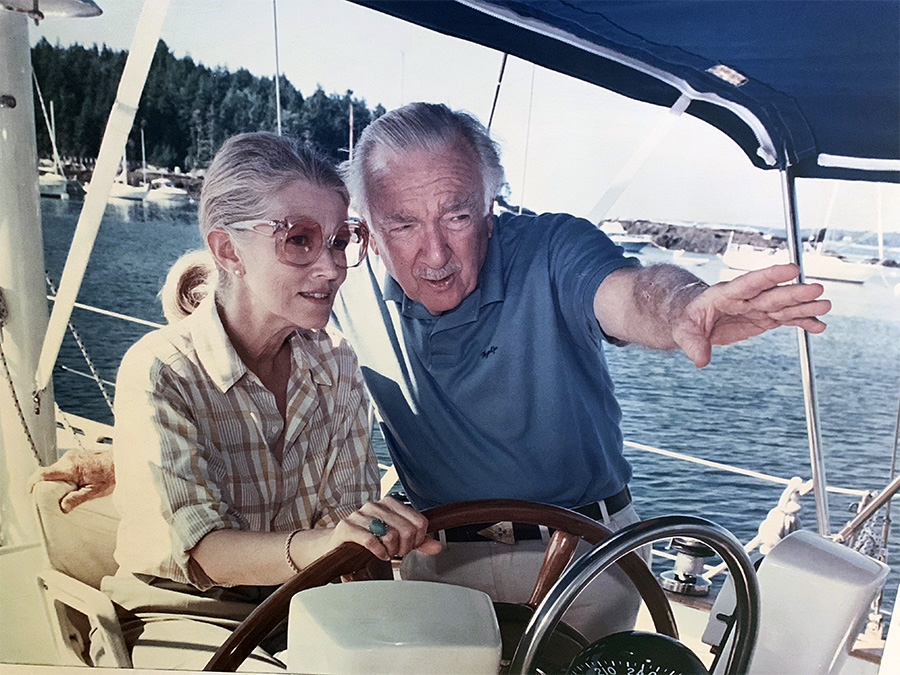 Morgan's support of Montana Journalism Abroad will allow more students to benefit from immersive, experiential learning opportunities not offered by traditional university classes.
"Travel is an extraordinary ongoing education," Morgan said. "Unlike a two-week vacation, study abroad gives students the chance to be deeply involved in learning. For me, travel was a grand extended classroom, and I'd like to encourage students to share that experience."
Montana Journalism Abroad consists of a pre-researched and planned two- to three-week international investigative reporting trip. Since it launched in 2013, students have traveled to India to cover environmental issues, Germany to report on the European refugee crisis, Japan to report on the aftermath of a trio of disasters in Fukushima Province, and South Korea to create a multimedia project focusing on urban conflict and development.
The students immerse themselves in traveling, experiencing and uncovering their stories. They produce multi-media journalism that has received media attention from multiple outlets including NPR and The Atlantic's "CityLab."
"The writing coming back from those trips has been dazzling," Morgan said. "I've learned something from all the stories, and they were fresh angles that I had not read before."
School of Journalism Director Denise Dowling agrees the breadth and impact of the reporting is something special.
"Some of the students who travel on these journalism trips have never been outside of Montana," she said. "Judith knows first-hand, and understands that the unique experience they receive in reporting and interacting with citizens of other countries cannot be replicated in a classroom."
Morgan's vision extends beyond cultivating better journalists. She believes her gift will help students become kinder, more empathetic people.
"We listen much better if we have been the foreigner. We realize we are not number one; we are one of many groups on this planet, and we better get along."
To learn more and make a gift to the UM Foundation in support of Montana Journalism Abroad, contact Gita Saedi Kiely, director of development at the UM School of Journalism, at gita@supportum.org or 406-243-5354.