Philanthropy Enables UM Saxophonist to Pursue Promising Musical Career
August 30, 2021
Since he was five years old, UM junior Antonio Jarvey has loved playing music. His passion and talent began with performing in musical theatre and continued into adulthood as he learned how to play the saxophone. With support from privately funded scholarships, the Great Falls native is taking advantage of every opportunity to prepare for a career as a solo artist as he earns a bachelor's degree in saxophone performance from UM's School of Music.
This summer, Jarvey attended the Canada-based Orford Music Festival. Attending over Zoom due to the COVID-19 pandemic, Jarvey studied with respected musicians through master classes and panels.
"The faculty delivered invaluable insights and shaped how I approach music," he said. "This experience allowed me to focus on my unique goals and aspirations."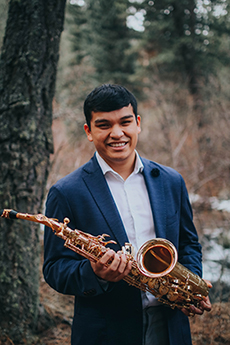 Jarvey was also selected to attend this summer's Brevard Music Camp in the studio of internationally acclaimed musician Joseph Lulloff and the Saxophone Summer Academy in Arosa, Switzerland in the studio of Dr. Timothy McCallister, the most high-profile classical saxophonist in the world. Due to the pandemic, he was unable to participate in person, but he plans to attend next year. In both programs, he will prepare several musical pieces and receive feedback from peers and instructors.
"The field of music can seem so saturated that many students believe they don't belong," he said. "Programs like Orford and Brevard prove there is a place for everyone who loves to create music."
Privately funded scholarships provide financial security for Jarvey, who has little time to work a paid job outside of rehearsing, traveling and studying. During the academic year, he plays in six ensembles, including UM's Symphonic Wind Ensemble, Symphony Orchestra and Jazz Band. He accepts regular invitations to perform at festivals and as a guest artist with groups around the country. This academic year, he will perform with the Billings Symphony, the Battle Creek Symphony in Michigan, and the Cambridge Symphony in Boston. Additionally, he participates in the UM Student Music Union and serves as the president of the UM Saxophone Studio.
These opportunities are made possible by scholarships, which help cover Jarvey's travel expenses, pay for instrument repairs and enable him to hone his musical skills within and beyond the classroom.
Renovations to the music building, propelled by philanthropy, will also benefit Jarvey. Beginning this summer, reconstruction of the facility's two largest ensemble rehearsal rooms and a portion of basement-level practice rooms will improve accessibility, safety and acoustic design. The upgrades will provide a more efficient and inviting space for Jarvey, who practices more than 35 hours each week, as well as his peers and community members.
"I'm grateful we will have facilities to match the talent and dedication of the individuals playing and working in the program," Jarvey said.  
While private support relieves a financial burden and improves learning spaces for Jarvey, it also encourages him to continue pursuing his passion.
"These gifts validate my hard work and show that someone believes in my generation," he said. "Your generosity helps students like me take one more step toward a better future." 
Learn More
To learn more and make a gift to the UM Foundation in support of scholarships or facility renovations, contact Cate Sundeen, director of development at the College of the Arts and Media, at cate.sundeen@supportum.org or
406-243-4990.