UM Grad, Respiratory Therapist Works Pandemic Front Lines, Supports UM Students
June 22, 2020

When Portia Fox earned her Associate of Science in respiratory therapy from Missoula College in 2010, she didn't expect to one day be intubating patients during a pandemic. Now, with a UM bachelor's degree also in her tool kit, she works long, overnight hours wearing a face mask and shield, a protective suit and gloves as protection against the coronavirus.

This spring when Fox was serving her community as a respiratory therapist at Western Peaks Specialty Hospital, a long-term acute care hospital in North Salt Lake, Utah, she found time to give back to her UM family. Fox recently donated to the Emergency Student Support Fund to help UM students affected by the pandemic. Through May, generous donors like Fox have helped raise over $75,000 for the fund to help students who are struggling to meet basic needs.

Below, Fox shares her inspiration to support UM students now more than ever, her journey to becoming a respiratory therapist, and her experience as a healthcare professional during the pandemic.
You recently donated to the Emergency Student Support Fund, which provides resources to UM students facing unexpected hardship as a result of the COVID-19 pandemic. What motivated you to give to that fund?
It felt important to me. I've been poor as a student, and I can only imagine what not working and going to school would be like. I've been there myself and had to figure out how to work and go to school at the same time. And, I know how important education is as a whole.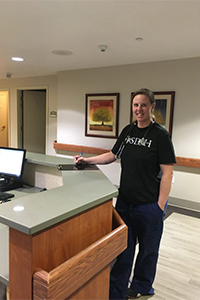 How do you hope your gift will impact UM students?

I imagine it's going to help students recover from not being able to work while going to school. I hope to help cover costs like food, books and tuition. Some students are raising kids, and I hope to benefit those parents who are going to school.

Do you have any advice for students who have been impacted by the pandemic?

One of the most important things you can do as an individual is get an education. Just stick with it, no matter what. Life is a hard journey, but you have to keep working at it. If you have to, take a break. Keep pursuing your goals because one day, you might find yourself saying, "I can help with a pandemic," or you'll be in a position to help your community.

Why did you choose to study exercise science and respiratory therapy at UM?

I moved from my hometown of Port Orchard, Washington to Montana to work for the U.S. Forest Service in 2004. I worked on trails in Bitterroot National Forest, Wyoming, and Idaho. I decided to stay in Montana because UM fit me the best. Everything was focused on being outside. It just felt like home.

I decided to go to school because I was interested in studying the human body. I had been an EMT and volunteered for the Montana Snowbowl Ski Patrol, which sparked my interest in the medical field.

The human body is a fascinating subject, but biology can't cover it all. There are so many disciplines within health performance that I could have pursued. I met someone who was in respiratory school who said, "This might be a good fit for you." So, my senior year, I decided to study respiratory therapy.

What was challenging about your journey to pursuing your degrees?

Respiratory clinicals were tough. You have to be dedicated to finish the required hours working in hospitals with other therapists. Clinicals are year-round for two years, three days per week. I traveled to hospitals in Billings and Spokane while attending classes two days of the week. I graduated from Missoula College with an Associate of Science in respiratory care in 2010, then worked at Bozeman Deaconess Hospital for three years while taking classes as MSU.

In 2014, I returned to UM and worked night shifts as needed for a year so I could focus on my classes and graduate with my bachelor's degree in exercise science. It was difficult to work as a respiratory therapist and attend school full time. It was important to me to finish my degree, but it was hard to balance both. I could have given up, but I'm glad I didn't.

How did attending UM prepare you for the work you're doing now?

I had professors in the respiratory therapy program who inspired my sense of curiosity, empowerment and confidence. I also had really good clinical experiences to prepare me. There's nothing better to prepare you for the real world than hands-on experience. You can learn all the math, science and theory, but applying it can be difficult.

Respiratory therapists are really needed right now, and a lot of employers are looking for therapists with a bachelor's degree. My degree made me a more well-rounded person. In health, there's a whole range of topics — whether it's muscular, skeletal or physiological. Having a bachelor's degree helps me think about the whole picture. With just a respiratory degree, I don't think I'd be as informed or able to understand more complicated issues.

UM helped me prepare for the COVID-19 pandemic for sure. Without this education, I wouldn't be where I am today, helping with the pandemic. Having an education has helped me to grow as a person and as a healthcare provider. My education is super important to me and I feel extremely lucky to be helping during this crisis.

How has the pandemic impacted your day-to-day work?

Although I haven't seen a lot of cases, I've still had a role in helping those who are recovering from all sorts of health conditions. I mostly focus on patients' airways and manage ventilators, which is the most important part of the job. Putting patients on a ventilator is an acute, long-term and complicated procedure.

The stressful part is maintaining the patient load. The majority of our patients have tested negative, but we're getting more patients as bigger hospitals transfer them for long-term care, such as heart surgery recovery. We've been short-staffed, so I've been working a lot of overtime.

Our whole hospital was under quarantine for two weeks. I had to wear an N95 mask, including a shield if I was giving a patient breathing treatment. Any time I'm in a patient's room, I have to wear a protective suit, a gown and gloves. We all wear surgical masks most of the day. It's tough to wear one for 12 hours a day, and the plastic suits get really hot.

Have you noticed any positive changes as a result of the pandemic?

One positive impact of the pandemic is I've become a better respiratory therapist because I've been challenged more. I'm working around more experienced respiratory therapists, which has helped me grow as I learn about the profession.

What are the most rewarding aspects of your job?

I really like emergency intubation because that's where my experience is, and I get to work with a team of other respiratory therapists, doctors and nurses to help patients. Working as a respiratory therapist has also extended my EMT and snow patrol background.

What are you doing to take care of your own mental and physical health during the pandemic?

I live right below the Uinta-Wasatch-Cache National Forest. I've been hiking and biking almost every day. I'm also trying to focus on eating right and sleeping well, which can be difficult with my schedule because I mostly work nights.
Learn More
The University of Montana Emergency Student Support Fund helps enrolled UM students meet their basic needs by alleviating unexpected financial hardship created by the COVID-19 pandemic. Your gift makes an immediate difference for students. To learn more, visit supportum.org/emergencyfund.